Sher Ethiopia is proud to produce its roses in a sustainable manner while ensuring good working conditions for its employees. Our production, processes and conditions are audited and approved by various certification bodies.
Fairtrade
MPS-SQ
MPS-ABC
MPS-GAP
GRASP
ETI
EHPEA Code of Practice Silver
EHPEA Code of Practice Gold
If you wish to view (one of) these certificates, you can do so via the link below: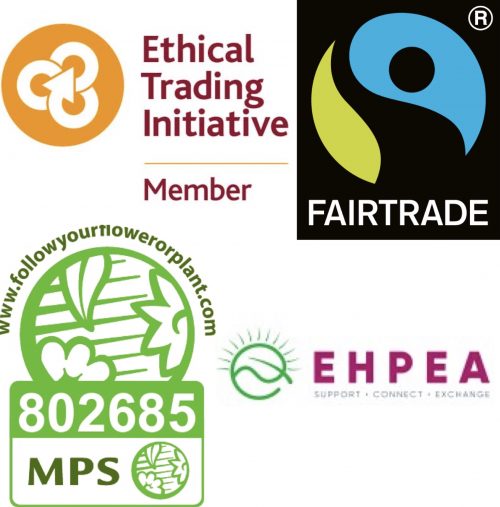 Fairtrade
Our farms meet various Fairtrade criteria when it comes to environment-friendly production and effective living and working conditions for employees. Roses sold under the Fairtrade label generate extra income because consumers pay a slightly higher price. This surcharge is partly spent on social projects like the hospital and schools of Sher Ethiopia. It also contributes to the budget of our independent Fairtrade Premium Committee, which is used to subsidize food ingredients and offer training. Consumers in Europe can thus contribute to better living conditions in Ethiopia. Sher is audited for compliance with Fairtrade standards on an annual basis.
MPS-Socially Qualified
Good working conditions play an important role for many traders and consumers. The MPS-Socially Qualified (SQ) certificate demonstrates compliance with international requirements (code of conduct) in the field of health and safety.
MPS-ABC
MPS-ABC is a monitoring tool that shows how companies can reduce their environmental impact by implementing appropriate measures. MPS-ABC makes sustainability-related efforts transparent and measurable. It is a globally recognized environmental certificate based on the digital registration of crop protection products, energy, fertilizers, water, and waste. The MPS-A qualification that we have been awarded is synonymous with environmentally conscious cultivation.
MPS-GAP (Good Agricultural Practice)
MPS-GAP is a certification scheme that covers traceability, environment, safety, and hygiene. MPS-GAP is benchmarked to GlobalGAP, which means a GGN (GlobalGAP number) will be assigned as soon as the certificate is obtained. This number will be visible in the GlobalGAP database.
GRASP
GRASP (Global GAP Risk Assessment on Social Practice) is an addition to the current MPS GAP certificate. The GRASP module assesses whether companies meet several requirements in areas such as personnel and payroll administration, pensions and outsourcing of work.
ETI (Ethical Trading Initiative)
ETI was mainly developed for the UK market. MPS-Socially Qualified, on the other hand, is suitable for all countries and has broader international support from NGOs and trade unions. The ETI Base Code has many similarities with MPS-Socially Qualified but places greater emphasis on flower wholesalers and supply companies.
EHPEA Code of Practice Silver
This label from the Ethiopian Horticulture Producer Exporters Association monitors the social and environmental performance of affiliated exporters of flowers, cuttings, and vegetables in Ethiopia. EHPEA Code of Practice has three levels: bronze, silver, and gold. Code of Practice Silver is equivalent to the international Global GAP for flowers and ornamentals. Control Union Certification (CUC) performs the independent audits and certifications during certification.
EHPEA Code of Practice Gold
Compared to the Code of Practice Silver, Gold status requires additional activities and collaboration with the local community and the horticultural sector. Sher Ethiopia has held Gold status since 2014.
Ann Siminta
Compliance manager