Making a difference in horticulture everyday
Working at Sher means working for the largest rose-grower in the world and a front runner in the horticultural industry. We have a long history and extensive rose-growing experience in Ethiopia. We employ around 12,500 people in Ethiopia. Working for Sher also means being part of our team of professional colleagues, where you are given plenty of opportunities for personal growth and development.
Our core values and beliefs are: passionate people, respected partners, diverse teams and sustainable strategies.
Meet our people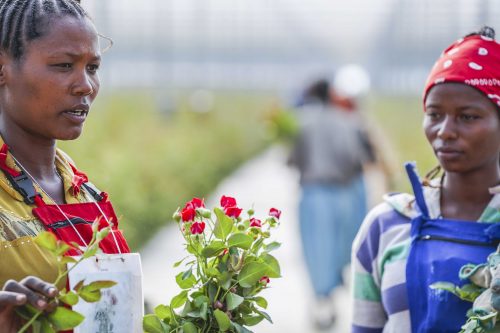 Values and beliefs
We are committed to excellence, and we are proud to bring freshness, quality and colour into people's lives. We assume positivity, respect the views and always do what we say. We maximise our individual and collective potential.
We build trusted partnerships with customers, growers and communities; built on integrity, trust and transparency. We treat others as we would want to be treated; we grow together.
Diverse thinking comes from diverse teams: we are inclusive, we learn from setbacks, and we celebrate success together. We show vulnerability and we operate on accountability and trust.
We are ambitious in our goals, data driven in decision making, and innovative in delivery. We use our long-term strategy and short-term decision making to build a future for our people, communities and environment.