What is Fairtrade?
Fairtrade is a social movement that helps people to work in better conditions and companies/employees to get more money for what they produce. This gives workers the opportunity to improve their lives and plan for their future. Fairtrade helps people in developing countries sell to people in developed countries. Products that are sold in international trade include handicrafts and other manufactured goods but also agricultural products such as grains, coffee, cocoa, sugar, tea, bananas, honey, cotton, quinoa, fresh fruit, chocolate and flowers. Merchandise that has a fair trade status is given a Fairtrade certificate, indicating it complies with rules about fairness to workers and the environment. Sher Ethiopia received a Fairtrade certificate in 2012 and has complied ever since. The premium for the Fairtrade sales of our roses allow us to invest in the communities. In addition to our substantial projects in education and health our Fairtrade Premium Committee independently runs several projects which are described below. Besides that we also collaborate in programs of Fairtrade Africa like DignityforAll  and the Women School of Leadership.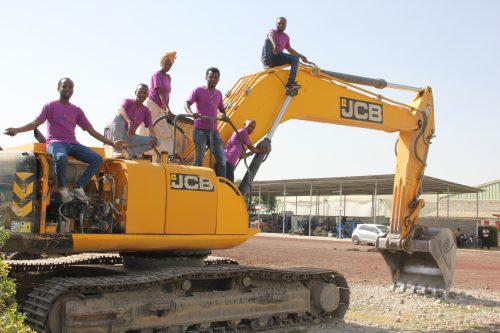 Fairtrade Premium Committee
Five FPC members
Left to right: Kelil Geda (Chair Person), Kedir Abebe (Treasurer), Belaynesh Getachew (deputy Chair Person), Abduqadir Dema (Accountant) and Andualem Abera (General Assembly Chair Person)
A Fairtrade Premium Committee (FPC) is a committee consisting of elected worker members and appointed advisors from the management. Its purpose is the management of the Fairtrade Premium received for the benefits of all workers on a certified farm.
Sher FPC project 1: Subsidized food supply
The Fairtrade Premium Committee supplies food to Sher workers at a subsidized rate of 30%. Food products provided are cooking oil, maize, and wheat flour and are supplied to workers every month. The subsidized food helps the workers to cope with the rising inflation due to turbulent economic circumstances in Ethiopia, generating higher food prices all around the country.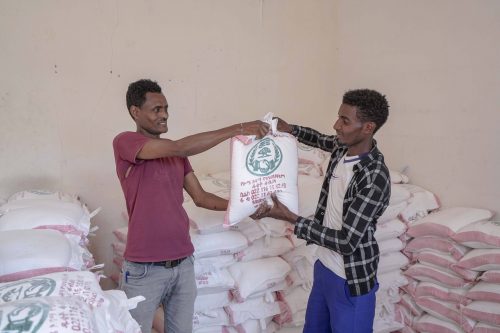 Sher FPC project 2: Capacity building through skill trainings
Capacity building is one of the aims of Fairtrade. Therefore the Premium Committee allocates a budget every year to organize skill trainings. In 2021 there are 4 different types of skill trainings open to all Sher employees: Beauty Salon, Tailoring, Driving License and Computer. So far over 800 employees have signed up for a training. 60% of the training costs are covered by the fund of the Committee. Workers contribute 40%. This to ensure all participants are motivated. The trainings are given by private colleges and workers can attend the trainings after working hours. This project benefits our workers by giving them an opportunity to have an additional income generating activity and to also build their self-esteem. The courses take on average 8 months and require the participants to come to the classes 3 up to 6 hours per week, depending on the type of training. We have asked some of the (former) participants to share their stories. You can read them below.
Project 2: Skill Trainings testimonials
Beauty salon
Melessa Bekele
My name is Melesa Bekele, 30 years old. I started at Sher in 2007 as a buncher in the grading. In 2009 I became a cleaning supervisor, this job I have kept ever since. I am married and I have a 5 year old daughter. The skill as a barber will help me to increase my income in the future. I want to open a barbershop at home but I will keep my job at Sher. Cutting hair is something I can do in my spare time.
Tailoring
Masresha Tesema
My name is Masresha Tesema, 20 years old. I started at Sher in 2018 in the cleaning department and now I am an office assistant. Born and raised in Ziway I still live with my mother and brother who is 18 and will graduate as a fashion designer in 2022. That is when we want to open our own shop. This skill training is helping me a lot. I am also in evening school to finish my grade 11 and 12 so after that I can start to get a diploma.
Driving license
Sadam Korma
My name is Sadam Korma, 26 years old. I started at Sher in 2015 in the grading department and now I am a storekeeper. I was born and raised in Ziway. In August 2021 I completed my driving skill training and now I am a professional busdriver. I am planning to do part-time work as a driver, so I can increase my income.
My name is Mikias Dagu, 24 years old. In 2019 I started working at Sher in Greenhouse Maintenance. Since I have three children I want to improve my position. By gaining IT knowledge I hope that one day I will be able to find an office job. The course started with a lot of theory but now we are taught practical programs like MS Office.
Sher FPC project 3: Community housing for the impoverished
In November 2022 sixteen newly constructed apartments were handed over to impoverished people in Batu/Ziway town. The project involved the demolition of old, dilapidated housing structures and their replacement with decent stone houses.
About 18 months earlier, the Sher Fairtrade Premium Committee initiated the project which was funded by the purchase of #Fairtrade roses. The consumers choice for Fairtrade roses enables the FPC to empower communities and to help the vulnerable to live truly decent lives. These 16 apartments ensure a healthy living environment for elderly and disabled persons by providing them with decent housing and clean sanitary facilities that they previously lacked.
As a company we contributed to the project by making all labor available for free. A big achievement of the construction team that did a tremendous job.
In the presence of Mayor Mr. Dejene and Mr Boniface Lwanda (ECAN Flower Manager of Fairtrade Africa), the houses were handed over to the old residents.