At Sher we highly appreciate our employees. We have implemented the Ethical Trading Initiative Base Code which is based on the standards of the International Labour Organisation (ILO). All Sher workers have direct and indirect benefits as described below.
All employees get a permanent employment contract. Working for Sher means a fair salary with attractive compensation and benefit packages such as presence bonus, pension and free medical care.
Our workers are free to join a union. We have a Collective Bargaining Agreement (CBA) and children of employees can go to the Sher School free of charge (joining age is 4 years).
All new employees receive an induction and health and safety training on the first day. They are provided with appropriate PPE in the respective job positions.
Employees can enjoy the recreational service and sporting activities at the Sher Clubhouse and at the well-equipped Sher Stadium.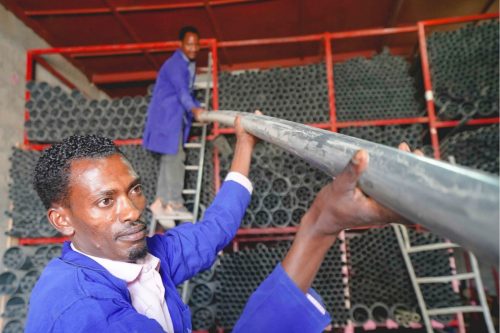 Our workers can join several committees:
Workers Union (Sher Ethiopia PLC Basic Labour union)
Gender Committee
Occupational Safety and Health Committee
Sport & Recreational Committee
Anti-Aids & Sexual Reproductive Health Committee
Recruitment Committee & Disciplinary Committee