Mr. Gerrit and Mrs. Nel Barnhoorn are the founders of the Sher-Schools. What started with 4 classrooms and a few teachers in 2006 has now grown into a school with 4 locations and almost 7000 students ranging from 4 until 18 years old. This would not have been possible without the unwavering support of Mr. Gerrit and Mrs. Nel Barnhoorn. Thanks to their dedication and hard work thousands of children now have better chances in life. We are very grateful to them for that. To honor them and to commemorate their 50th wedding anniversary we have introduced the 'Barnhoorn Scholarship' in 2021.
Each year 4 students (2 female and 2 male) are granted a scholarship that helps them to cover a part of their study-expenses and cost of living at a university of their choice in Ethiopia. The main goal of the scholarship is to help high achieving students with disadvantaged backgrounds.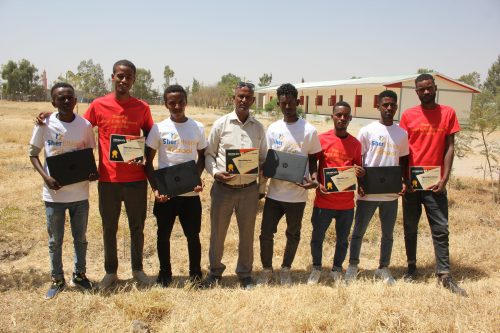 In 2022 the first 4 scholarships were handed over by Mr John Barnhoorn to Aziza Suleman, Kaleb Jemal, Tensae Minase and Yidnekachew Masresha. John spoke on behalf of his parents: "The fact that Sher School has made such a positive impact over the years and has changed so many lives since my parents started to build the first nursery classrooms in 2006, fills their hearts with joy and happiness".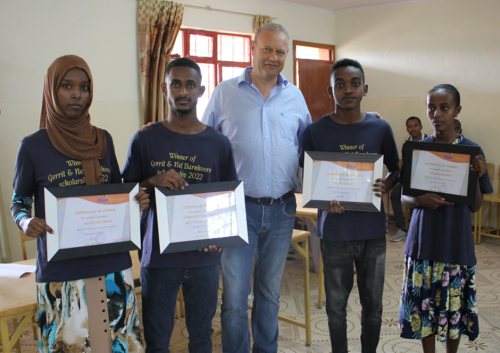 We thank Mr. and Mrs. Barnhoorn for their unwavering support for the Sher Schools and Hospital over the years and we are extremely proud of all students as they are a true example of the positive impact that Sher Ethiopia has on the community in Ziway and surrounding areas. We wish all our graduated students, and those to come, a bright future, wherever it may take them.